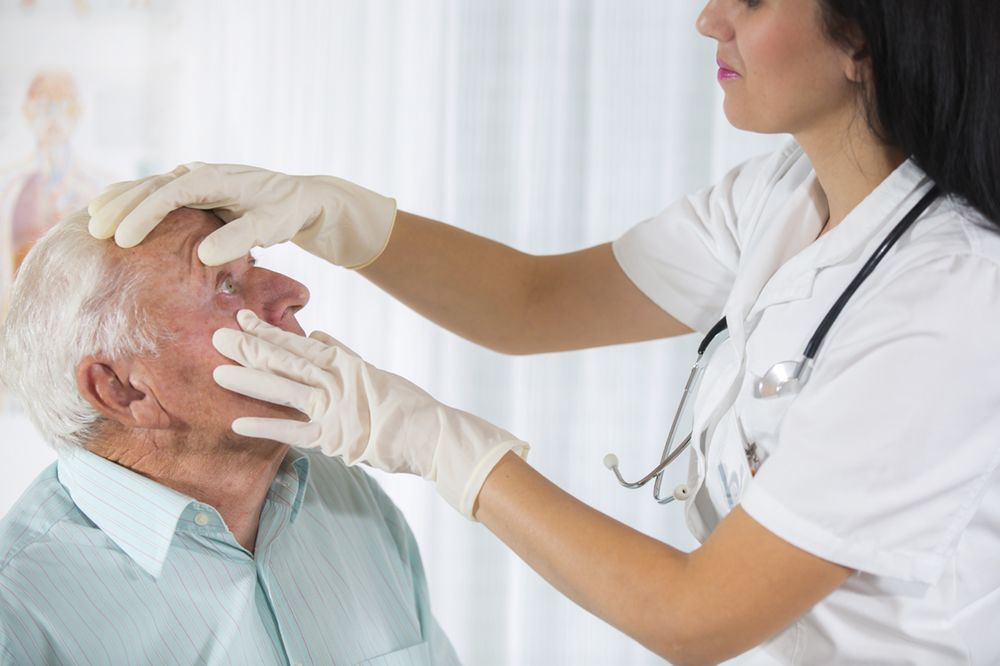 Individuals over the age of 60 are more likely to have impaired vision or a serious eye condition. Advanced age is also a known risk factor for many diseases. To help our older patients, Dr. Thomas J. Byrd and the board-certified ophthalmic technicians of Byrd Eye Clinic offer comprehensive eye exams for seniors.
The American Academy of Ophthalmology recommends that adults age 60 and over visit their eye doctor every year for an eye exam. Early diagnosis and treatment of eye conditions, poor vision, or eye disease can lead to optimal eye health outcomes. Byrd Eye Clinic serves Detroit, MI, Dearborn Heights, MI, and Lincoln Park, MI. Read on the learn more about eye exams for seniors.
Age-related Eye Problems
Adults over the age of 60 are at higher risk of having eye problems like presbyopia (inability to read small print), dry eyes, watery eyes, or the presence of floaters in their field of vision. These eye problems can be treated by our eye care team during your eye exam in Detroit.
Around one-third of adults over the age of 65 have some type of eye disease, according to the American Academy of Family Physicians. Eye exams are especially important for seniors because many serious eye conditions do not have symptoms that are immediately noticeable.
Advanced age or a history of eye problems can place you at a high risk of developing age-related conditions that include:
Cataracts: The vision-impairing effects of cataracts can develop slowly. Cataracts result from the deterioration of the eye's lens. Our Detroit office offers safe and effective cataract surgery options.
Glaucoma: Glaucoma can lead to permanent vision loss if left untreated. The disease increases intraocular pressure. Glaucoma symptoms are not always noticeable. Our office often treats glaucoma with laser or eye drop therapy.
Retinal disorders: The retina is the light-sensitive layer of tissue at the back of the eye. Many retina disorders are associated with advanced age. Macular degeneration, diabetic retinopathy, and retinal detachment are common retinal disorders that can be diagnosed during an eye exam.
Dr. Byrd will look for the signs and symptoms of these eye conditions and many others as part of your eye exam.
What to Expect During Your Eye Exam
Our Detroit eye care center provides comprehensive eye care services that include regular check-ups and routine screenings for serious conditions. Patients should arrive 10 minutes early. Eye exams take around one hour to complete.
Eye exams include reading chart tests, but vision tests are just one part of eye exams for seniors. Dr. Byrd will use high-powered lenses to examine the internal structures of your eyes. Other tests will measure eye mobility and eye function. If you have any concerns or questions about your vision or eye health, these visits are a great time to talk to Dr. Byrd or a member of our eye care team.
Ophthalmology Technology
During your exam, you may be tested with the sophisticated Diopsys® NOVA-VEP Vision Testing System, which can analyze the way your eyes and nervous system respond to light and visual stimuli. This technology can diagnose glaucoma early and before the disease causes permanent damage.
If an eye problem is found, Dr. Byrd can begin treatment during your visit or during a later appointment.
Schedule Your Eye Exam Today
Dr. Byrd is the only fellowship-trained corneal and refractive subspecialist in the downriver area. If you are over 60 and have not had an exam within the last year, contact our office online or call (313) 383-1300 to schedule your next visit.